Updating
No, really.
I don't know if I've mentioned here, but my current work situation really blows. Like, remember how I had (literally) three times more work than any of the other native teachers last year? Yeah, it's that all over again. Thankfully it's not quite three times more, but once again, as usual, I have more classes than any of my co-workers, and every time I turn around I'm getting more classes added in to my schedule. I'm now working six days a week, since one of the other teachers here up and left to move to Tokyo (and in return for abandoning her students, she got promoted to Student Care Coordinator - but that's a rant for another day), and some of her classes were pushed onto me as overtime. Then they go and add more kids classes to my schedule. All after I already had more classes than anyone else. And no, nobody else is getting more classes forced onto them. Only me. And every single day, everyone else will have at least one hour - usually more - where they have nothing to do, except me. I don't get a break. I don't even have enough time to eat while at work.
My motto the past few months has been "I don't want to be justified in my anger." Meaning, as much as I don't like my tendency to flip out over nothing, I've come to think it's preferable to having a legitimate reason for being so pissed off all the time. However, in this case, I am justified.
Two of the other native teachers here, of their own accord, have gone to personnel and told them what's being done to me is bullshit. I didn't ask them to, I haven't even complained openly to anyone, but they saw it, and stood up on my behalf, because even they see that this is a really shitty thing to do to someone. It's not just me overreacting; other people are seeing it.
Last week the staff informed me that I would have to do some special lessons this week, and the other night one of the other teachers messaged me saying he would do them for me. And he did, and I'm extremely grateful that for once someone was willing to step up for me.
I keep telling myself things will get better. I can only hope so.
So that's the work front.
On the social front, I amazingly had a friend visit me. It was odd, because this friend has straight up said she wouldn't ever come here (she lives in Tokyo). This friend has traveled all over the fucking world to attend seiyuu events, but absolutely refused to visit a friend just a few cities away. And yes, I have visited her in the past, in Japan as well as when we both lived in California. So when she out of the blue wrote me saying "I need to visit you," I have to admit, I was suspicious. We had a lovely, fun day-and-a-half of hanging out, of course, but I can't help but wonder at the sudden change of heart.
As for games, a co-worker gave me an extra copy of 'Dragon Quest IX', and I've been playing that almost every moment I'm not at work. It's rather fun, and I especially like that the characters are my own created characters. As usual, I become addicted to anything I can customize.
In story news, I posted all of '
Between the Two
' over at AFF.net, so if anyone was actually reading it, it's there. I don't know if I'll finish posting it here as well. It seems a bit pointless now, and is a bit more work. I think aside from short side-stories, I'll probably just post everything over there from now on, and link it here.
Which, with that said, I've also posted the first part of
the thing I wrote for NaNoWriMo
there as well. It's pretty much totally un-beta'ed, as I'm really no good at self-editing, and decent betas don't exist. But... There it is. (And I usually update on Tuesdays, my only day off, for anyone who wants to follow it for some odd reason...)
Over the holiday, I was grabbed by several side-story ideas. I started writing one in one notebook, but didn't take that notebook with me to Kyoto. In Kyoto, while waiting for the bus, I started working on another story on the iPad, but am currently a little bit stuck with that, and only seem to work on it when I have absolutely nothing else to do. Then, a few weeks ago, when I was going out to eat I figured I'd do some writing on the other story I'd started, but when I got to the restaurant I realized I'd brought the wrong notebook. .>_> So I started a new one in the notebook I had with me. ... In conclusion, I'm currently working on three short stories at the same time. I hate when I do that.
And finally, on the dolly front, I'm enjoying the new boy very much. I know I've been sharing pics of him on Facebook and Tumblr, but since I haven't introduced him here, I will. So...
Meet Clay!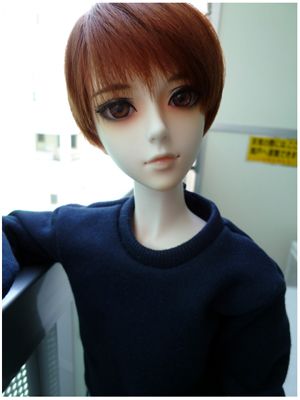 Yes, he's that Clay, and no, I don't currently have any plans to get a Nicholai. (But if something perfect is released.............)
Clay's head is a smidgen too big for his shorty short body, which kind of suits him, and I'm absolutely in love with him. Totally enthralled. I want to spoil the bejeezus out of him.
And in dolly story news... I've been in absolutely no mood to take any photostory pictures for months now.
I blame work.
I have no reason to use this icon, but I'm going to anyway.
Edit- Ooooooooooh~ I just realized it's Tachi's birthday. Six years! Happy Birthday, Lovie. ♥
I feel like I haven't posted anything meaningful in a while. I blame work.